Welcome to the wonderful world of Tiny talents!
Toys specially designed for young children between the ages of 0 and 3 years, which focus on your child's development. The products in the Tiny talents line are child-friendly and safe with a fun twist.
The collection contains products for practising and developing specific skills. For example, developing fine motor skills, hand-eye coordination and learning to recognise shapes and objects. In addition, the Tiny Talents line contains lots of fun activities for in the bathtub.
Modern, child-friendly and safe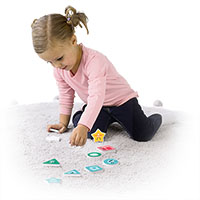 The Tiny talents products are modern, child-friendly and safe. There are lots of fun activities for young children and beautiful products in trendy colours to fit a modern lifestyle and interior.
Buckle and button crocodile
This really soft cuddly toy crocodile teaches your daughter or son how to open and close different types of fasteners. Will they be able to join together the different parts of the crocodile properly and discover what is hidden behind the zip in his mouth?
Popular with Tiny talents