Want to do something creative? Well, you're in luck, because we happen to have everything you need to colour, paint, mould and craft. Our toys make great gifts for giving to your friends and you'll love receiving them too!
Fingerpaint, poster paint, colouring pencils, markers, chalk, play dough and more, you'll never be bored again. We make all our crafting materials in our factory in the Netherlands. This enables us to ensure that your products are safe and high quality. Don't be scared of making a mess because our crafting materials are easy to wash out of textiles and wipe off surfaces.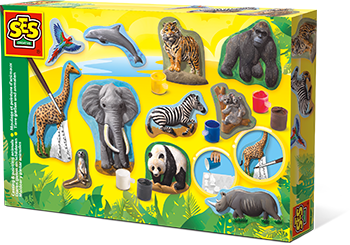 As well as our individual hobby materials, we also have full hobby sets that always give a fantastic result! Whether you like to make things out of plaster, craft jewellery or embroider, there's always something you'll enjoy! And if these aren't quite your style, we also have cool construction, dinosaur and car-themed sets.
Casting and painting – Unicorns
Do you love unicorns too? With this set from SES Creative, you can easily make different, fun unicorn figures from plaster. Pour the plaster into the mould and let it set. Grab the paint supplied and paint the unicorns with your favourite colours. Fun to make and gives a great result!
Popular with Crafting