I learn to dress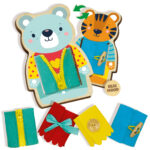 Description
Brrr… these animals are chilly. Can you help them put on a warm coat? Discover the four different fasteners and make sure the animals are toasty.
The set contains a set of wooden animals to dress up (two-sided) and jackets that close with a button, tie, toggle or zip fastener.
Available at
View on Bol.com
View on Lobbes
Features
Contents
Specifications
Educational
Develops motor skills
Learn how to open and close different types of fasteners
Ideal preparation for children dressing themselves
Set is re-usable.
Wooden dress-up figure (2-sided)
4 Coats with different fasteners
Instructions
EAN code: 8710341146382
Artikelnummer: 14638
Minimale leeftijd: 3 yr(s)