Dino and skeleton excavation 2 in 1 – Triceratops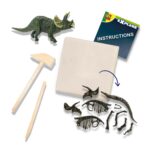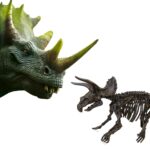 Description
Let children discover the archaeologist within themselves with this 2-in-1 Explore set from SES Creative. Using the hammer and chisel, they will uncover the parts of a Triceratops dinosaur skeleton in the excavation block. Once the bones are excavated, children can assemble the skeleton themselves. With the skeleton and the accompanying Triceratops figure, they will enjoy hours of playtime.
Features
Contents
Specifications
Dig out a complete Triceratops skeleton and assemble it
Lifelike playing figure; Realistic skeleton
Realistic skeleton
Play and discover at the same time.
Triceratops play figure
Chipping blok with Triceratops skeleton
Wooden hammer
Wooden chisel
Instructions
EAN code: 8710341250935
Artikelnummer: 25093
Minimal age: 5 yr(s)